Back To Top
DeLille Cellars Blog
Kelly and Chris Sparkman, Founders of Sparkman Cellars, and Executive Winemaker Chris Upchurch and CEO Tom Dugan of DeLille Cellars meet at the Redhook site. Both wineries will be moving to the former brewery.
Photo credit: Richard Duval
We are excited to announce that we will be moving our winery, tasting room, and offices to the iconic Redhook brewery building later this year. This will mark the first time since 1998 that our retail and winemaking operations will all be under one roof, and we can't wait to share our new world-class wine experiences with you.
The larger space and adjoining winemaking facility will provide for a variety of elevated experiences, including:
o Tours and tastings
o Private and reserve tastings (food and wine pairings, blending seminars, and library wine retrospectives)
o Enhanced space for Wine Club membership, including a rooftop deck
o Private tasting rooms and event spaces
o Outdoor seating
All current operations will remain open until the new space is ready, which should be open in the fall of 2019. Our wine lounge in Kirkland, Maison DeLille, will continue to offer wine flights, glass pours and small bites to the Kirkland community indefinitely, and the DeLille Cellars Chateau will continue as a venue for weddings and private events.
We can't wait to share updates as we make progress on the space!
Read the Seattle Times Article >>>

A VISIT TO HERMITAGE AND FOUR OF RED MOUNTAIN'S MOST PRESTIGIOUS VINEYARDS...
My time at Chave in Hermitage in 1997 showed me that you could blend plots of the same varietal to create a seamless wine, rather than blending different varietals as we do in many of our other wines. I spent a day with Jean-Louis Chave. He has seven plots on Hermitage Hill and all seven have different soils and exposures. Each plot created a different wine even though they were the same varietal, Syrah. We took samples of all seven plots from one vintage and started blending them together.
We carried this principle for blending plots of the same varietal with the crafting of our Four Flags Cabernet Sauvignon from the Red Mountain AVA. One day in the cellar, we explored the idea of blending Cabernet from four of the best vineyards in Red Mountain. Could we put together a blend that would showcase the nuances of each vineyard in a seamless wine? The challenge was to build a wine where we could still distinguish the characteristics of each vineyard; where one doesn't overrun the other. It isn't always achievable, but we found with Four Flags, it was, and our first vintage was in 2010.

MASTERFULLY BLENDED, FOUR FLAGS IS A HARMONIOUS AND COMPLEX REPRESENTATION
OF THE INCOMPARABLE TERROIR OF RED MOUNTAIN AND A TRIBUTE TO OUR STEADFAST COMMITMENT TO THIS RESPECTED VITICULTURAL AREA.
SINCE OUR FIRST VINTAGE IN 2010, FOUR FLAGS HAS RECEIVED AN AVERAGE SCORE OF 95 POINTS FROM ROBERT PARKER, HAS BEEN NAMED THE SEATTLE TIMES "WINE OF THE YEAR," AND HAS RECEIVED THE WINE ENTHUSIAST'S EDITORS' CHOICE AWARD.
THE FOUR VINEYARDS OF FOUR FLAGS:
Grand Ciel: Our Estate Vineyard: Grand Ciel demonstrates a seamless purity of Cabernet fruit with cassis and Herbes de Provence – what I like to call a "Cabernet popsicle." If you love Cabernet you will love this vineyard.
Ciel du Cheval: Ciel du Cheval has much shallower soils and gives us minerality and "Pauillac" graphite flavors along with blueberry flavors.
Klipsun: Klipsun is at the bottom of the Red Mountain AVA and has deeper soils. Klipsun fruit is very rich and ripe, creating concentrated wines with plum brandy nuances.
Upchurch: Upchurch Vineyard has a definite floral aspect to it, coming from clone 2 Cabernet Sauvignon, offering violets and faded roses along with rich fruit.
BUTTERNUT SQUASH RISOTTO WITH BLACK TRUFFLES
By Executive Winemaker Chris Upchurch
Wine Pairing:
DeLille Cellars D2
This is a very cool dish because it is vegetarian, yet the cheese and truffles bump it up to a red wine pairing. It is perfect with the DeLille Cellars Merlot-dominant D2. For the carnivorous, add a short rib on top. Vegetarian or not, everyone is happy. Do not fear the truffle. As with many things, they are available on the internet for most of year. I like to shave them at the table to add to the experience.
Ingredients
½ cup extra-virgin olive oil
1 cup finely chopped onion
1 tbsp. chopped garlic
2 cups Arborio rice
1 cup dry white wine
Approx. 6 cups of hot vegetable stock
1 butternut squash, halved and baked in the oven with butter, then mashed like mashed potatoes
½ cup grated parmesan
4 tbsp. unsalted butter, cut into small pieces
Medium to large black truffle
Instructions
In a heavy saucepan, or wok, heat the olive oil over medium-high heat. Add the onion and garlic, and sauté, stirring continuously until just softened for 3 to 4 minutes. Add rice and continue to stir, using a wooden spoon, to coat the rice with the oil.
Add white wine and continue cooking, stirring often until it has been absorbed by the rice. Pour in enough vegetable stock to cover the rice completely (approx. 3 cups), and continue to cook, stirring often until all the liquid has been absorbed.
Pour in 1 cup of additional vegetable stock, and stir/cook until it has been absorbed. Repeat 2 more times. With the last cup, stir until the rice is al dente, tender but still a little chewy (and most of the liquid has been absorbed).
Stir in the mashed squash, and reduce the heat to very low so that the risotto stops simmering. Stir in the parmesan and butter to give the risotto a nice, creamy finish.
Spoon it immediately into heated shallow serving bowls. Sprinkle a little more Parmesan over it and shave the truffle on top.
---
---
---
DeLille Cellars is honored to BE a Wine & Spirits Magazine Top 100 WinerY of 2017!
"With 25 years of experience behind them, the team at DeLille Cellars has mastered the art of the Bordeaux-style blend in Washington State."
Wine & Spirits Magazine announced the Top 100 Wineries of 2017, profiled in the Annual Buying Guide. The print edition serves as a program for Wine & Spirits 14th Annual Top 100 event on Tuesday, October 10th, at City View at METREON in San Francisco, where DeLille Cellars will be pouring their 2013 Four Flags Cabernet Sauvignon and 2014 D2. DeLille Cellars is one of six wineries from Washington State and one of 35 in the United States to make the list.
"Our editors have organized panels of sommeliers and retailers to taste more than 15,000 wines with us, blind, and recommend the most compelling examples from every corner of the wine world. Our editors consistently rated certain producers highly, and we have chosen those 100 wineries to profile in our Annual Buying Guide and to pour at our Top 100 event. They are part of a very tight competitive set, and one thing they all share in common is a commitment to the place where their wines grow. Their wines are more delicious for it." - Joshua Greene, editor and publisher of Wine & Spirits Magazine
The Top 100: View on Wine & Spirits >
Achaval Ferrer
Adelsheim
Fratelli Alessandria
àMaurice Cellars
Andrew Will
Marchesi Antinori
Bernard Baudry
Domaine des Baumard
Bergström
Blandy's
Henri Boillot
Bryn Mawr
Comm. G.B. Burlotto
Chambers Rosewood Vineyards
Champalou
Domaine Chanson
Cobb
Domaine Coffinet-Duvernay
Elvio Cogno
Col Solare
Concha y Toro
Corison
Craggy Range
Cristom
Domaine Marcel Deiss
DeLille Cellars
De Martino
DeMorgenzon
Diamond Creek
Dosnon
Duckhorn
Dutton-Goldfield
Evening Land Vineyards
Domaine Faury
Forjas del Salnés
Frog's Leap
Fuligni
Gai'a
Genium Celler
Ktima Gerovassiliou
Giant Steps
González Byass
Gramercy Cellars
Green & Red
Grosset
Henriques & Henriques
Hidalgo-La Gitana
Hirsch
Inglenook
Iron Horse
J. Christopher
Louis Jadot
Jurtschitsch
King Estate
Kir-Yianni
Krug
Lioco
Pierre Luneau-Papin
Le Macchiole
El Maestro Sierra
Anselmo Mendes
Château du Moulin-à-Vent
Moutard Père et Fils
Movia
Occhipinti
Penfolds
Prinz Salm
Produttori del Barbaresco
Radio Coteau
Le Ragnaie
Ravenswood
Ravines
Red Car
Reynvaan
Ridge
Louis Roederer
Salomon-Undhof
Paolo Scavino
Silverado
Skerlj
Skinner
Soalheiro
Stag's Leap Wine Cellars
Domaine de la Taille aux Loups
Tapiz
Taylor Fladgate
Tenuta delle Terre Nere
Terroir Al Limit
Tinto Negro
Undurraga
Vadiaperti
Vadio
Vega-Sicilia
C. von Schubert
von Strasser
Robert Weil
The Withers
Walter Scott
Yalumba
Domaine Zind-Humbrecht
"ONE OF MY BEST VINTAGES IN 25 YEARS... A VINTAGE OF THE AGES." - CHRIS UPCHURCH, EXECUTIVE WINEMAKER
Taste our fall releases from the extraordinary 2015 vintage, enjoy live music and appetizers, and celebrate 25 years of winemaking! Seattle Chocolates, also celebrating their 25th Anniversary, will be sampling from their jcoco line of culinary-inspired chocolate.
Dates: November 3 & 4, 2017
Location: The DeLille Cellars Chateau
14208 Woodinville Redmond Road
Time: Please note we have three different event dates/times.
Select your date and time below.

Friday, November 3rd, 4:00 PM - 8:00 PM
Saturday, November 4th, 11:00 AM - 2:00 PM
Saturday, November 4th, 3:00 PM - 6:00 PM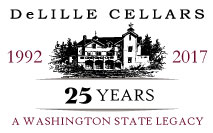 Ship six to twelve bottles for just 25 cents via ground in celebration of 25 years of winemaking. 2-Day Air and cold pack options are also available.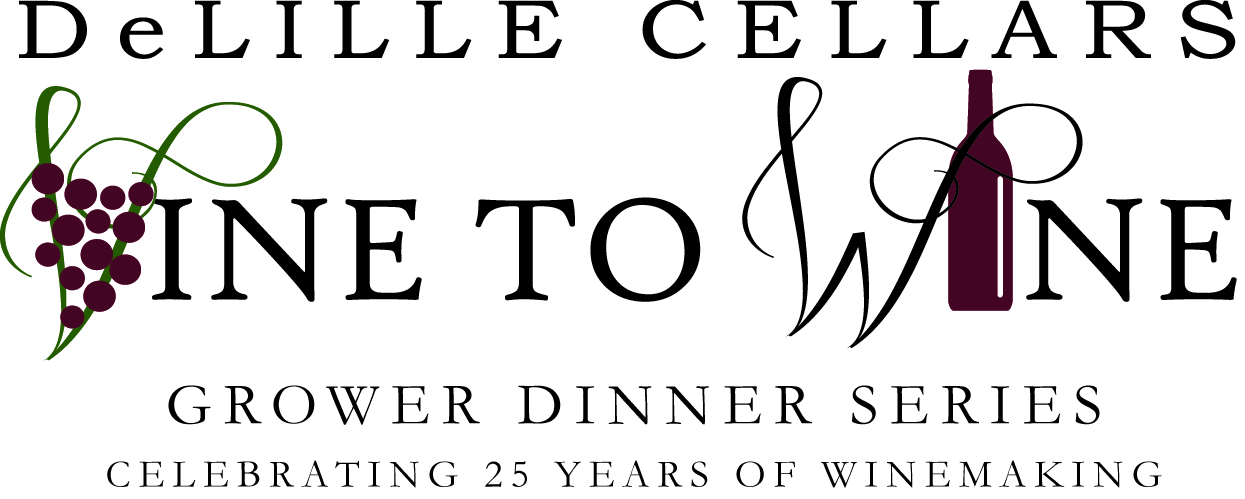 Join us for the third experience in our Vine to Wine Grower Dinner Series at Tulio. The dinner will highlight Sagemoor Vineyards with a pairing menu that celebrates D2 and Chaleur Blanc on August 13th from 4-6 PM.
Sign Up For Our Newsletter
Keep up to date on the latest wine releases, events, and promotions.