Back To Top
DeLille Cellars Blog
BUTTERNUT SQUASH RISOTTO WITH BLACK TRUFFLES
By Executive Winemaker Chris Upchurch
Wine Pairing:
DeLille Cellars D2
This is a very cool dish because it is vegetarian, yet the cheese and truffles bump it up to a red wine pairing. It is perfect with the DeLille Cellars Merlot-dominant D2. For the carnivorous, add a short rib on top. Vegetarian or not, everyone is happy. Do not fear the truffle. As with many things, they are available on the internet for most of year. I like to shave them at the table to add to the experience.
Ingredients
½ cup extra-virgin olive oil
1 cup finely chopped onion
1 tbsp. chopped garlic
2 cups Arborio rice
1 cup dry white wine
Approx. 6 cups of hot vegetable stock
1 butternut squash, halved and baked in the oven with butter, then mashed like mashed potatoes
½ cup grated parmesan
4 tbsp. unsalted butter, cut into small pieces
Medium to large black truffle
Instructions
In a heavy saucepan, or wok, heat the olive oil over medium-high heat. Add the onion and garlic, and sauté, stirring continuously until just softened for 3 to 4 minutes. Add rice and continue to stir, using a wooden spoon, to coat the rice with the oil.
Add white wine and continue cooking, stirring often until it has been absorbed by the rice. Pour in enough vegetable stock to cover the rice completely (approx. 3 cups), and continue to cook, stirring often until all the liquid has been absorbed.
Pour in 1 cup of additional vegetable stock, and stir/cook until it has been absorbed. Repeat 2 more times. With the last cup, stir until the rice is al dente, tender but still a little chewy (and most of the liquid has been absorbed).
Stir in the mashed squash, and reduce the heat to very low so that the risotto stops simmering. Stir in the parmesan and butter to give the risotto a nice, creamy finish.
Spoon it immediately into heated shallow serving bowls. Sprinkle a little more Parmesan over it and shave the truffle on top.


---

---
THANK YOU TO ALL WHO VOTED in our favorite d2 memory contest! ENTRIES WERE Voted on ANONYMOUSLY by our staff - AND HERE ARE OUR WINNERS:
First Prize Winner- Rick D. and Katherine D.
It was 2001 when we first met and started dating. As in the beginning of all relationships, you spend time discovering each other, finding out the things that you have in common (and those things that you don't). One of our common pleasures, as it turned out, was drinking and enjoying wine. She had a fondness for wines from out of the country, while my loyalties lied more with local varieties, scattered with some Californian selections. It made for some fun sampling, each trying ones the other liked.
We had been together about 6 months and I still hadn't shared with her one of my very favorites, D2. To paraphrase an old Seinfeld episode, I wanted to make sure she was "D2 worthy". As I could have predicted, she fell in love with it from the very first taste.
Over the years, it became our identifier. Because both of our last names began with a "D", and because we often would bring a bottle to gatherings, we became the D2's. Our friends would address things to the D2's and we would sign responses the same.
As with any passion or collectable, it can become somewhat addicting to find new ways to share the "thirst" for the brand. Of course we like to buy and drink it, as we still have bottles of every year dating back to 2004. When we referred a new member to the DeLille wine club, our gift glasses were personalized "the Other D2". When the 20 anniversary bottle was released, Chris signed it "to the D2's". Very special for us.
As it has been for all of these years, D2 is our house wine.
- The D2's
SECOND PrizE WINNER- Carter H.
I started working at El Gaucho Seattle when I was 18 years old. I knew from the second I walked in the door I wanted to be a server and work my way up from being a food runner. I was surrounded by tableside salads, flaming desserts, and an element I was absolutely not ready for: sommeliers. They would approach a table, work their magic, and voila they would emerge with a great wine to complement the guests experience. For years I heard the name "D2" thrown all about. Servers were saying it, bartenders were saying it, guests were asking for it. Finally one day I overheard a guest exclaim how divine the D2 was, so I did some investigating. Then came my birthday, and after being the youngest and only person in the restaurant under 21 everyone came out to celebrate my big day! After years of waiting, I was finally able to buy wine from the restaurant, and the first bottle would of course be DeLille's D2. It was mid-December, my boyfriend and I cozied around the fireplace with dinner, and I was buzzing with excitement! So excited that I couldn't even taste the first sip, but by the second I was in love. Its great working in an industry surrounded by wine, because I've been able to taste and drink so many wines with good dinners, and celebrations, but for me D2 holds an extra special place in my heart. It's where this journey of mine started and where it ended, with fantastic wine. Thank you DeLille!
TWO THIRD PRIZE WINNERS:

#3-1 - Carrie Ann B.
Shortly after my husband, David, and I met in 2009, we drove to the Olympic Peninsula to hike Hurricane Ridge. Part of the hiking ritual was to bring along food and wine to share and on that particular day I put a bottle of D2 in the backpack.
It was a long drive from Issaquah so when we got there we were ready to stretch our legs and start the adventure in this breathtaking paradise. As we approached the summit, we noticed a trail meandering to the left through a field where marmots were whistling from their burrows. We decided to go that way and found ourselves at a clearing that overlooked a big canyon with the Strait of Juan de Fuca in the distance. It was the perfect picnic spot and we had it all to ourselves, or so we thought!
Not long after we settled in and were enjoying lunch and the D2, we heard a rustling in nearby trees and a young buck popped his head out and was looking at us! He was so close we could see the fuzz on his short antlers. As he slowly emerged from the forest, we were amazed not only at the buck's proximity and size, but also that he didn't seem afraid.
We stared at each other for awhile and then the deer slowly made his way along the tree line, never taking an eye off of us, before disappearing back into the forest. The experience made for a magical day that my husband and I still talk about today and D2 was part of it!
My husband and I have hiked many trails in Washington, but this particular trip ranks at the top as does D2 and the rest of Delille's wines.
#3-2 - Jordan M.
I'm a server at an upscale steakhouse in Seattle and my favorite D2 memory would have to be when a table from outside of the state came and sat down, asking for a "nice Bordeaux blend" while looking at the French wines on our list. I steered them to the DeLille Cellars D2 as a local alternative to the traditional Bordeaux wines, tasting similar and allowing them to taste the LOCAL flavors (shouldn't you do that when visiting somewhere?!). They finished the bottle before even the appetizers were finished being consumed! "ANOTHER BOTTLE PLEASE!" Ended up with 3 bottles of D2 for them that night. Sadly, nothing was left for me! Not to worry as I went up to the tasting room in Woodinville a couple weekends later and got my fix of the D2, Doyenne and Rousanne! What a nice experience for our guests and a delicious tasting at the tasting room for myself!
Washington's DeLille Cellars Celebrates Drink D2 Day December 2nd
Woodinville, WA, November 15, 2017 ---- On December 2nd, DeLille Cellars will celebrate its first annual "Drink D2 Day" in tribute to one of its founding wines, D2. One of two blends first made by DeLille Cellars in 1992, D2 pioneered the way for Bordeaux-style blends in Washington State.
Drink D2 Day requires no ticket to participate. Simply enjoy a glass (or bottle) of D2 on Saturday, December 2nd, and share your experience online (@delillecellars, #drinkD2day). Whether it be at home in front of the fire or out celebrating with friends, DeLille Cellars hopes you will toast to the season and help celebrate the winery's 25th Anniversary and passion for Washington wine.
"One of Washington's founding Bordeaux blends, D2 established the immense potential of this region, and exemplifies the dedication and relentless effort and care of our growers and winemakers. Please join us on Drink D2 Day (or any day) in raising a glass to the spirit, growing tradition and reputation of Columbia Valley wine," said Winemaker Jason Gorski.
DeLille Cellars will also have a special offer on D2 through the weekend (December 1 – 3) at its locations in Woodinville and Kirkland, as well as online at www.delillecellars.com. D2 fans can also participate in the "Favorite D2 Memory" contest and be entered to win large format bottles of D2 for only $2. Entries due by November 24th at www.delillecellars.com/drinkD2day.
"D2 is a traditional blend of Bordeaux varietals sourced from over 15 of Washington State's most prestigious vineyards. It is a great tribute to our craft of blending in an old-world style, while showcasing the power and structure of Washington State as a world-class wine region," said Executive Winemaker Chris Upchurch.
D2 was recently awarded a Wine & Spirits "Year's Best US Cabernet Blends" and a Seattle Met Top 100 award, with gold awards in coveted competitions such as the San Francisco Chronicle Wine Competition and Sunset International Wine Competition. D2 has received scores over 90+ from top publications for every vintage (rated since the second vintage in 1993). In a recent review from Jeb Dunnuck for Robert Parker's Wine Advocate, Mr. Dunnuck said of D2, "…from a who's who list of vineyards in Washington State, this beauty has tons of upfront fruit, as well as a firm, nicely structured core. Hats off to the team at Delille for consistently producing this level of quality at this quantity."
Visit: www.delillecellars.com/drinkD2day
###
About DeLille Cellars
Founded in 1992 by Charles and Greg Lill, Jay Soloff and celebrated winemaker Chris Upchurch, DeLille Cellars is a boutique artisan winery located in Woodinville, Wash. Known for pioneering Bordeaux-style blends from Washington State, the winery has maintained a tradition of quality and excellence with over 200 highly-rated wines with a scores of 90+. DeLille uses the Red Mountain AVA as its foundation and sources grapes from Washington's most acclaimed vineyards, including Ciel du Cheval, Grand Ciel, Upchurch, Red Willow, Sagemoor, Klipsun, Boushey and Harrison Hill. The winery is recognized by notable wine critics and influencers, including Robert Parker, as one of the top producers in the state, and the winery was recently honored as a Wine & Spirits 2017 Top 100 winery in the world. To learn more about DeLille Cellars, visit www.delillecellars.com.
Click here for digital assets for Drink D2 Day>
Media Contact:
Keri Tawney, Director of Marketing & Events
keri@delillecellars.com
425.489.0544 x1013
www.delillecellars.com
---
---
---
DeLille Cellars is honored to BE a Wine & Spirits Magazine Top 100 WinerY of 2017!
"With 25 years of experience behind them, the team at DeLille Cellars has mastered the art of the Bordeaux-style blend in Washington State."
Wine & Spirits Magazine announced the Top 100 Wineries of 2017, profiled in the Annual Buying Guide. The print edition serves as a program for Wine & Spirits 14th Annual Top 100 event on Tuesday, October 10th, at City View at METREON in San Francisco, where DeLille Cellars will be pouring their 2013 Four Flags Cabernet Sauvignon and 2014 D2. DeLille Cellars is one of six wineries from Washington State and one of 35 in the United States to make the list.
"Our editors have organized panels of sommeliers and retailers to taste more than 15,000 wines with us, blind, and recommend the most compelling examples from every corner of the wine world. Our editors consistently rated certain producers highly, and we have chosen those 100 wineries to profile in our Annual Buying Guide and to pour at our Top 100 event. They are part of a very tight competitive set, and one thing they all share in common is a commitment to the place where their wines grow. Their wines are more delicious for it." - Joshua Greene, editor and publisher of Wine & Spirits Magazine
The Top 100: View on Wine & Spirits >
Achaval Ferrer
Adelsheim
Fratelli Alessandria
àMaurice Cellars
Andrew Will
Marchesi Antinori
Bernard Baudry
Domaine des Baumard
Bergström
Blandy's
Henri Boillot
Bryn Mawr
Comm. G.B. Burlotto
Chambers Rosewood Vineyards
Champalou
Domaine Chanson
Cobb
Domaine Coffinet-Duvernay
Elvio Cogno
Col Solare
Concha y Toro
Corison
Craggy Range
Cristom
Domaine Marcel Deiss
DeLille Cellars
De Martino
DeMorgenzon
Diamond Creek
Dosnon
Duckhorn
Dutton-Goldfield
Evening Land Vineyards
Domaine Faury
Forjas del Salnés
Frog's Leap
Fuligni
Gai'a
Genium Celler
Ktima Gerovassiliou
Giant Steps
González Byass
Gramercy Cellars
Green & Red
Grosset
Henriques & Henriques
Hidalgo-La Gitana
Hirsch
Inglenook
Iron Horse
J. Christopher
Louis Jadot
Jurtschitsch
King Estate
Kir-Yianni
Krug
Lioco
Pierre Luneau-Papin
Le Macchiole
El Maestro Sierra
Anselmo Mendes
Château du Moulin-à-Vent
Moutard Père et Fils
Movia
Occhipinti
Penfolds
Prinz Salm
Produttori del Barbaresco
Radio Coteau
Le Ragnaie
Ravenswood
Ravines
Red Car
Reynvaan
Ridge
Louis Roederer
Salomon-Undhof
Paolo Scavino
Silverado
Skerlj
Skinner
Soalheiro
Stag's Leap Wine Cellars
Domaine de la Taille aux Loups
Tapiz
Taylor Fladgate
Tenuta delle Terre Nere
Terroir Al Limit
Tinto Negro
Undurraga
Vadiaperti
Vadio
Vega-Sicilia
C. von Schubert
von Strasser
Robert Weil
The Withers
Walter Scott
Yalumba
Domaine Zind-Humbrecht
"ONE OF MY BEST VINTAGES IN 25 YEARS... A VINTAGE OF THE AGES." - CHRIS UPCHURCH, EXECUTIVE WINEMAKER
Taste our fall releases from the extraordinary 2015 vintage, enjoy live music and appetizers, and celebrate 25 years of winemaking! Seattle Chocolates, also celebrating their 25th Anniversary, will be sampling from their jcoco line of culinary-inspired chocolate.
Dates: November 3 & 4, 2017
Location: The DeLille Cellars Chateau
14208 Woodinville Redmond Road
Time: Please note we have three different event dates/times.
Select your date and time below.

Friday, November 3rd, 4:00 PM - 8:00 PM
Saturday, November 4th, 11:00 AM - 2:00 PM
Saturday, November 4th, 3:00 PM - 6:00 PM
Please join us for our annual


RELEASE
at the DeLille Cellars Chateau
TUESDAY, SEPTEMBER 26th
6:30 - 8:30 PM
14208 Woodinville-Redmond Rd NE
$79 + tax per ticket
Featuring our Grand Ciel Cabernet Sauvignon and Syrah from our Estate Vineyard on Red Mountain.

You will be welcomed with a taste of our new 2014 vintage, and then will explore the power and allure of Red Mountain during a seated library tasting led by Executive Winemaker Chris Upchurch and Winemaker Jason Gorski.
Light appetizers and pairings will be served during the event.
Special event-only pricing and boxed sets will be available.
Limited seating available!
Tickets are non-refundable.
---
Featured wines:
---
---

---



---
Washington Wine Month promotion only valid during the month of August. Valid only on current vintage 750ml bottles.
25th Shipping Promotion Details:
SHIP for 25 Cents Ground on 6-12 bottles*
$25 2-Day Air / $35 2-Day Cold Pack
* Where applicable and weather dependent.
Valid for current vintage 750ml bottles only.
For every 6 additional bottles, add $0.25 / $25 / $35
Someone 21+ must receive the delivery.
Questions? Contact the Carriage House at 425-877-9472.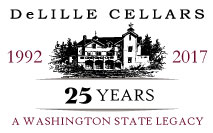 Ship six to twelve bottles for just 25 cents via ground in celebration of 25 years of winemaking. 2-Day Air and cold pack options are also available.
Sign Up For Our Newsletter
Keep up to date on the latest wine releases, events, and promotions.